Best LEGO experience in Denmark
LEGO is perhaps one of the most famous plastics products of all time. Saying the word LEGO, we put a smile on the faces of some or bring joyful childhood memories to others. Learn more about the history of LEGO and some must-see places in Denmark.

Brief history of LEGO
The home of LEGO is Billund, a small town of just over 6,000 people on the Danish Jutland Peninsula, which is still home of the LEGO Group. LEGO's ancestor was carpenter Ole Kirk Christiansen, who began making quality wooden toys in the early 1930s. His son, Godtfred, who was only 12 years old at the time, had an assistant partner in the production of the toys from the very beginning. In 1934, they gave their company the name LEGO, which comes from the fusion of the first two letters of the words "leg godt" meaning "play well". This word has been very well characterized and still characterizes the company's philosophy until today. Ole Kirk Christiansen's goal was to produce toys that move children's imaginations, making them more creative and much more colourful for their childhood.
The early years of LEGO were not characterized by success or high profits at all. The 1930s were difficult for Ole Kirk, both in terms of family and company. In 1942 the factory building accidentally burned down, therefore a large amount of raw materials and blueprints for many toys were destroyed. Ole Kirk, on the other hand, has not given up here yet: in 1944, he founded a new factory in which a conveyor belt production technology was already in operation. Even then, he laid down the motto that has since become famous: "Det beste er ikke for godt!" meaning "Only the best can be good enough!".
LEGOLAND Billund Resort opened its doors in 1968 and since then has been attracting millions of visitors every year. It is located near Billund Airport, it can be reached in less than 10 minutes by either car or public transport. LEGOLAND's favourite attractions are the mini models of famous buildings and sites from around the world. The spectacle is already impressive, but you can have an active fun day by trying the roller coasters, water rides or kiddie rides for the smallest. Families and children of all ages can find their expectations and have a great fun day there or even a weekend if you stay at the 4-star Hotel LEGOLAND.


Mini Nyhavn in LEGOLAND Billund
Not only does LEGOLAND inspire visitors to visit Billund, but LEGO House – also known as Home of the Brick- is also a popular attraction for LEGO fanatics. It has been located close to LEGOLAND and designed by Danish architect, Bjarke Ingels. This experience centre is a complex of interactive exhibitions, building zones and LEGO models where creativity meets design. You can challenge your skills and imaginations and build the newest LEGO design together with your family.

LEGO Store – Copenhagen
If you are not willing to travel to Billund, you can have LEGO experience also in Copenhagen. The LEGO Group opened a flagship LEGO Store in the heart of Copenhagen in 2010. You can find exclusive LEGO sets that you might not be able to see or buy anywhere else.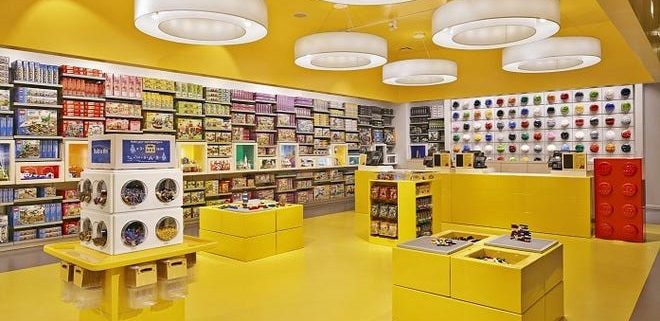 Vimmelskaftet 37, 1161 København
Create Your Custom LEGO Experience at Amitylux
If you would like to explore the homeland of LEGO and have some fun activities in Denmark – book a custom tour with Amitylux – and let us help you to plan your trip in accordance with your interests and time.