The Best 5 Food Markets in Copenhagen
Are there food markets in Copenhagen? Of course, there are! Would you like some ideas? Well, you are in the right place! Let's dive in!
Food Markets in Copenhagen |
Bridge Street Kitchen
The Bridge Street Kitchen is the perfect spot to enjoy the fantastic view over the water and spectacular sunsets right in the heart of Copenhagen between Christianshavn and Nyhavn.
The Kitchen opened in May 2018 as a collaboration between the founders of other renowned such as Papirøen, Reffen, and some of Noma's owners. The Bridge Street Kitchen is a street food spot collection of kitchens and bars that serve delicious food and beverages from every corner of the world. Here you can taste anything from burgers, pasta, crepes, Fish & Chips, salads and whatever you can think of!
It is open daily for the whole week, and you can pay with credit cards and cash. Lastly, one thing is sure; you will have a fantastic time visiting Bridge Street Kitchen!
Closed for Winter.
Tivoli Food Hall
It is known that Tivoli Gardens is one of the most visited and beloved attractions in Copenhagen. However, the fun does not end there. You can also explore its multiple food stalls in Tivoli Food Hall, with a wide variety of options for good quality foods. Its spacious 850 square meter food hall is located next to Copenhagen Central Station.
It can be visited at any time of the day. So, whether you prefer breakfast, brunch, lunch or dinner, it has you covered. You can enjoy your coffee and quality baked pastries from Brødflov, delicious burgers from Cock's and Cows, yummy pizzas from Gorms or savoury grilled fast food by the Michelin-starred Kadeau. Moreover, Tivoli Food Hall is a budget-friendly place, and you can enjoy your food on the go or sit while looking at Tivoli's magnificent garden.
Tivoli Food Hall is open all year.
*You can enter Tivoli Food Hall without paying for the ticket to Tivoli Park.
Reffen
Reffen–Copenhagen Street Food is one of the city's most famous street food hubs. The area is spacious, with 6000 m2 as a playground 50 plus start-ups with talented chefs and creative artists share their great passion for food and craftsmanship. So you can enjoy tasty meals and snacks from typical burgers, Fish & Chips, Sushi, pasta, tastes from Asia and the Middle East, tacos, and delicious meat options from worldwide, along with sweets and goodies of any kind.
Moreover, the street food venue offers a place where locals and people from abroad mingle harmoniously. At the same time, weekly events contribute to the hub's exciting atmosphere, and people also gather to play bingo and quizzes, listen to interesting talks and concerts, and much more.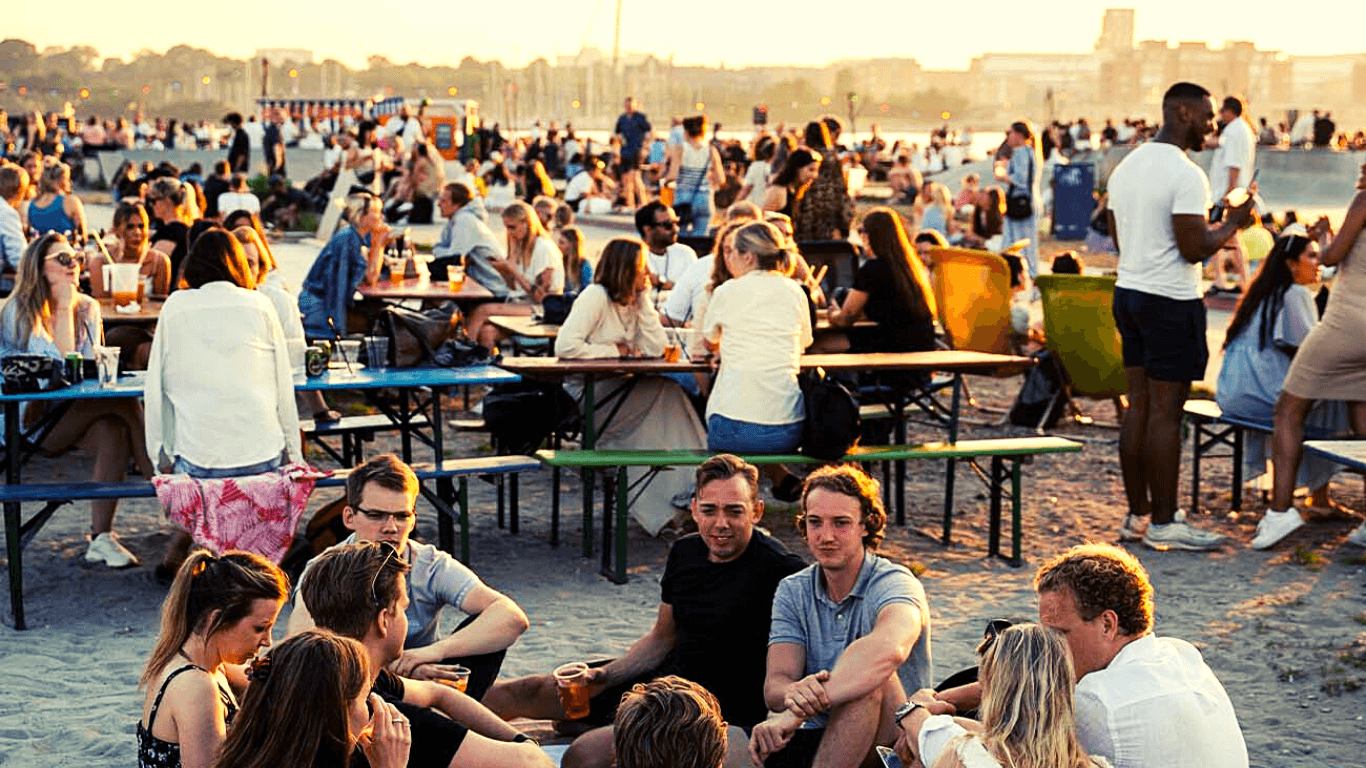 Closed for Winter.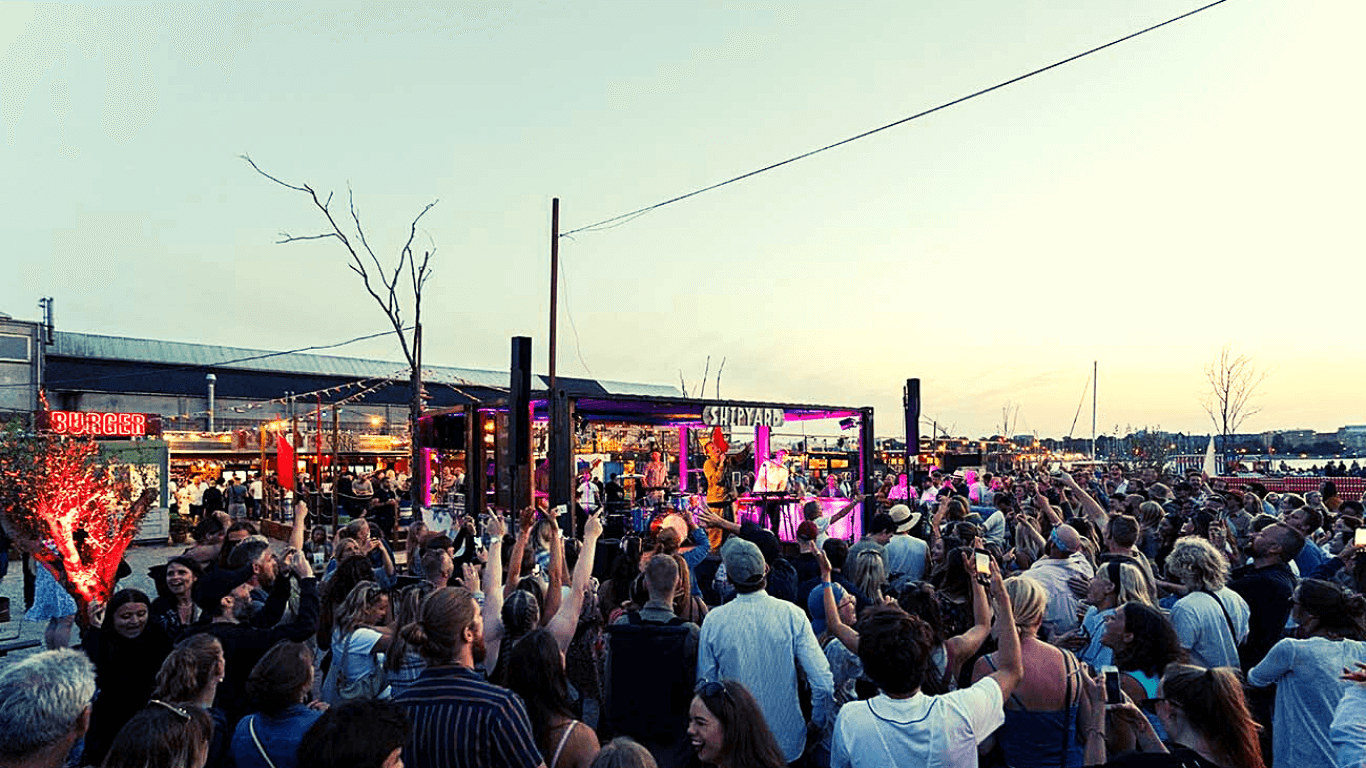 Torvehallerne
Torvehallerne is located in the centre of Copenhagen, right by Nørreport Station, and offers more than 80 stands. One can find fresh fruit and vegetables, fresh fish, meat, and cheese, and lots of ready-to-eat choices of any kind. It's an ideal place to visit no matter what you are searching for to eat, for breakfast, lunch, dinner, groceries, or just a walk around. When the sun is out, enjoying eating and drinking outside is the to-go option; however, expect the place out to fill up fast when in good weather.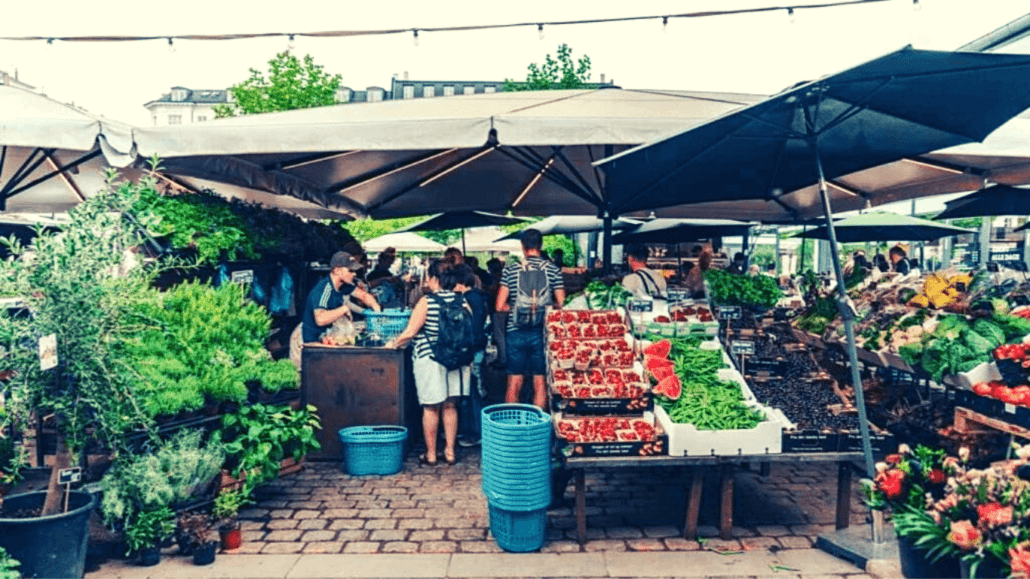 Several shops from the city are also in the market at Torvehallerne, such as the tea shop Tante T, Cofoco Supermarché and the beloved chocolate Summerbird. Lastly, Torvehallerne was designed by architect Hans Hagens and opened for the first time in September 2011.
Torvehallerne is open all year.
Seaside Toldboden
Seaside Toldboden utilizes multinational chefs with Michelin experience who aim to create a great atmosphere and synergy between visitors and the kitchen. Seaside Tolboden blends the unique style of a street food hub with the sentiment of a good restaurant aiming to create an unforgettable experience. There is an excellent variety of meals for any appetite to enjoy by the harbourside.
Moreover, Seaside Toldboden has open kitchens where you observe and get a unique visual understanding of your gastronomic choices. Of course, seafood has merit here without neglecting the other delicious options of a good food market restaurant—their cocktails and Christmas.
Seaside Toldboden is open all year, all weekdays except Mondays.
Create Your Custom Savory Experience With Amitylux
The Copenhagen gastronomic scene undoubtedly has a lot to offer, and choosing what to experience rapidly can be a daunting task. That is why many take a guided food tour to experience the best of what the city offers. At Amitylux, we create one-of-a-kind custom tours to suit your specific wants and needs. Don't hesitate to contact us if you have questions and want to create your perfect custom tour.